Center Parcs – Longford Ireland
We are very impressed with our visit to fully accessible Center Parcs Longford Ireland this week.
We had an amazing few days spending quality time with the family despite me having limited mobility temporarily. I highly recommend it to anyone with limited strength or mobility.
Over the last few months researching information in relation to disabilities has opened my eyes to the daily difficulties a disabled person, but this week I was able to identify with wheelchair users or a person with limited strength or mobility due to my own immobility after a recent operation. I now have even more admiration for their strength, courage and patience while adapting to complete everyday tasks we can take for granted.
I had reconstructive surgery on ligaments in my ankle and needed crutches for a minimum of two weeks.  This was just days before my Center Parcs break but as a family we decided to go ahead with the break. I am delighted we did as Center Parcs have great accessible facilities.
The forest
The forest is over 400 acres. Vehicles are allowed entry to the village on check in and departure days only. This gives great freedom for children to play safely. It also adds to the forest experience to have no cars. Of course, it's not ideal when using crutches and in pain but Center Parcs had a solution.
On the first day I decided to arrive early and walk to the village to familiarise myself before checking in at 3. This was very difficult as I was in a lot of pain.  On the walk back to the car I popped into the Cycle Center and they offered me a wheelchair free of charge or a mobility scooter at €64 plus a €200 deposit. I went with the mobility scooter and it was a great decision. The staff were so friendly and helpful and went out of their way to help. There was plenty of mobility scooters and they can be pre booked before your stay.
When you arrive, there are allocated disabled parking spaces nearby and a shuttle service to bring you around the forest if you need it. I didn't use this service as there was no need with the mobility scooter.
Accomodation
We stayed in a lodge which wasn't adapted but was very accessible. It had wide doors, open plan and all on one level.
There are adapted Apartments and lodges available with a fully equipped kitchen that has a lowered worktop and plenty of space to manoeuvre. They also have an electric bed, comfortable recliner and a walk in/wheel in shower.
Follow the link below to watch a video of the accessible accommodation.
Sub-Tropical Pool
Changing rooms in the Sub Tropical Pool are large and well equipped with an entry at the front and an exit at the back which leads to the lockers and Pool. Although I couldn't get my wound wet it was an experience to sit in the building as it felt like being on holiday. The whole building is heated to 29.5degrees. If you're not getting into the water be sure to pack summer/light clothes. There are plenty of deck chairs on dry areas where you can watch the children play. If it gets too hot there is a snack bar and the temprature is slightly cooler in the seated area.
Aqua Sana Spa
There is a hoist available in the Aqua Sana Spa and its also fully accessible. Its an amazing experience.
The village
All shops and restaurants are fully accessible with plenty of room for wheelchairs. The accessible bathrooms are large, modern, clean and adequate.
There are no bikes allowed in the village this made it easy to get around on the mobility scooter.
On numerous occasions parents parked their buggies or cases in front of the doors, blocking entry and exit. Although I noticed it many times throughout the week. It was very frustrating to experience it. At one shop my daughter was outside with my crutches and I was stuck there until she decided to return. This is by no means a criticism on Center Parcs as they have thought of everything for anyone with a disability. People need to be more aware of their surroundings.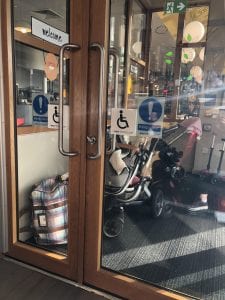 An overall great experience at Center Parcs and we will definitely be returning for another holiday soon.
For more information on Center Parcs follow the link below:
If you suffer from limited strength or mobility follow the link below to purchase your own Uccello Kettle:
https://uccellodesigns.com/where-to-buy/